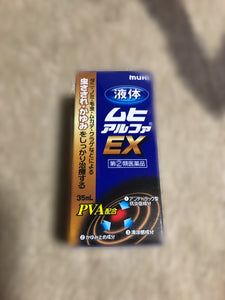 Description
I

nsect bites and anti-itch medicine created by Muhi <Liquid type>

Damage caused by poisonous insects is increasing.

Recently, due to the effects of global warming, the pet boom, and the development of parks in urban areas, the

chances of being bitten by poisonous insects that have never been seen before are increasing. In particular ticks,

fleas, caterpillars, pair with conventional insect bites drugs when stung like to Dokumushi and jellyfish, such as centipede

is likely to cause intense itching and inflammation of the more not be compliant.

 It is a combination prescription of "PVA + diphenhydramine hydrochloride" that is particular about its efficacy.

Liquid Muhi Alpha EX is a new type of liquid anti-itch agent developed for such insect bites

. Effective against well-inflammatory antedrug anti-inflammatory ingredients: (PVA Puredoni

to Zoron valerate acetate), component suppressed quickly itch (diphenyl

combining Nhidoramin hydrochloride) is a prescription stuck to efficacy. It is

effective not only for mosquitoes but also for insect bites and itching caused by mites, fleas, caterpillars, centipedes and jellyfish

.




PVA is a steroid component that is classified as a highly effective rank in general medicine.

It exerts an excellent anti-inflammatory effect in the affected area and then changes to a hypoactive substance.

Therefore, it has the property of being less likely to cause side effects peculiar to steroids.

Such a property is called ante-drug.

PVA is an ingredient with a good balance between efficacy and safety.




Liquid Muhi Alpha EX is not only for treating insect bites, but also for treating rash and dermatitis.

It is suitable.